Friday, January 9, 2009 at 12:39AM
So I started this blog recently because I'm now a member of the
NBC Street Team
(yea!), but I've really wanted a forum where we could exchange ideas for some time now.  Here we go . . . !
Maybe you've gotten word about the controversial Emperor Jones.  Yesterday marked Goodman Theatre's Chicago premiere of the Wooster Group's take  - performed in "Black Face" by Kate Valk.  Yes, black face.  Provocative? You bet.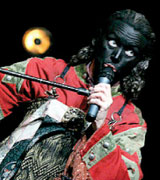 First released in the early-1930s, The Emperor Jones, starring Paul Robeson, tells the story of Pullman porter, who loses his temper and his job; lands not only in jail, but on a chain gang; kills a white guard, but manages to escape to Haiti where he crowns himself emperor. In this production, The Wooster Group, apparently notorious for their radical productions, clearly has a message that they find well-worth the risk of offending cultural sensibilities. 
Barack's historic "post-racial" bid for presidency may, for some, mark the end of racism in America. But, we've got a mighty long way to go before the revival of a seemingly minstrel-like performance can escape the ire of people who routinely feel the effect of racism in this country. That being said, Goodman Theatre has an undisputed record of including culturally diverse productions - and not just during the month of February! Giving Goodman the benefit of the doubt, I would be disappointed to find that the use of "black face" was purely gratuitous.  Are the wounds from that history that linger into the present still too painful that any purpose could every be justifiable?  Or should we be past all that by now?

Stephanie!
|

7 Comments
|