Simply Social Ravinia Park w/ Anita Baker!
8/12/12 Update: Simply Social sales have ended! If you've missed out, consider joining us at Simply Social: Tuesdays On the Terrace!
THE MISSION: Ravinia Park's outdoor concert venue is a spot that must be visited at least once each season. The parkgrounds are absolutely beautiful and nothing beats a lazy summer afternoon, turned to balmy evening under the stars, sprawled out on a blanket. So, we're going to head out there together, simply to socialize!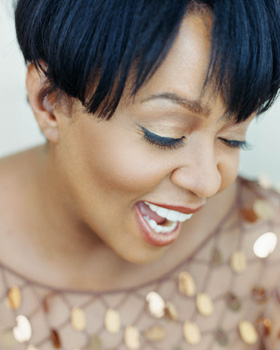 THE CONCERT: Anita Baker!
DATE & TIME: Saturday, August 25, 2012, 4:30pm - Midnight.
THE BASICS: Buy your package early for a great deal - Round trip Soleil's Party Train with libations and tasty treats; lawn tickets or reserved seats; catered lunch, dessert, wine and soft drinks at the park.

TRANSPORTATION: Up to 135 people will be able to join the Soleil's Party Train – our own car on the 4:35pm Metra train from Ogilvie Station (Madison & Canal) to Ravinia Park (normally $8.60 roundtrip). We return at 11:58pm!
PARKING: Discounted parking is available with Systems Parking for those boarding the Party Train at the Ogilvie Station. The garage is just north of Randolph and may be entered via Clinton or Canal. Mention "Simply Social" for $10 discounted parking. Car pool so you can milk that $10 for all it's worth!
THE MENU*:
Soleil's Party Train: TBA
At Ravinia:
Sandwiches (served with kettle chips):
Grilled Sirloin, with Boursin cheese and caramelized onion jam on grilled rosemary

Grilled Chicken Sandwich, marinated char-grilled chicken breast, baby spinach, vine ripe tomatoes and lemon aioli on ciabatta

Veggie Club, pickled cucumbers, carrots, mushrooms, fennel, sliced local tomatoes, avocado aioli and provolone cheese served on a whole-wheat baguette
Salad
Ravinia Festival Salad - Summer greens with raspberries, strawberries, mango, blue cheese and candied walnuts in a citrus vinaigrette

Baby Spinach Market Salad Dried figs, shaved fennel, candied pecans and baby spinach with a white balsamic vinaigrette

Nticing NgredientsDesserts - I'm happy to announce that Nticing Ngredients, from our maiden voyage to Ravinia, is providing the dessert for our outing: chocolate-covered strawberries, banana pudding, peach cobbler, strawberry shortcake and cheesecake! It. Will. Be. YUMMY
Wine & Soft Drinks
* We'll be at Ravinia for a little over six hours, so you may want to bring snacks for later in the evening and water. Ample concession stands are also available at Ravinia.
PAYMENTS: Lawn ticket and Picnic - $70; Picnic ONLY - $45; Metra ride is $7 round trip, payable separately and directly to Metra.
Complete Package, $65
Complete Package, Children 10 and under, $40
Party Train & Picnic Only (Buy Your Own Concert Tix), $42
ATTIRE: Red or orange is preferred (for a beautiful photo op!).
CHILDREN: Children are welcome on the Party Train and welcome to join us on the Ravinia lawn as long as you can (1) control them; (2) keep their little fingers out of other people's food; and/or (3) lock them down in baby seat or other restrictive device. LOL! You are also welcome to pack one of those snack-pack thingys for your kids and keep them out of grown folks' food, in which case, you can buy a $5 children's ticket directly through Ravinia and they can ride the Party Train for free.
REFUNDS: Your payment is NONREFUNDABLE, but is transferable.
See answers to more FAQs.