Sunday, June 20, 2010 at 10:13AM
Music Without Borders at Millennium Park
On Thursday, despite the fact that I was up until 4am, I was determined to make it out to the first night of Music Without Borders.  Well, there have been plenty of instances  when determination didn't stop a little durmido!  It's easy to back out of plans if there's no one sharing your enthusiasm enough to put the screws on you to make sure you show up.  So this time I backed up my determination with a date and had a wonderful time!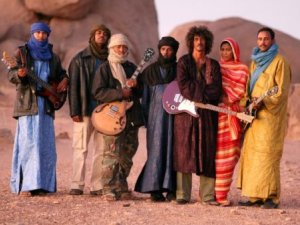 Music Without Borders opened its summer season with
Dandana: A Celebration of Muslim Voices featuring Tinariwen with Monajat Yulchieva
.  The music was lovely with soulful voices, Arabic rhythms and the occasional bit of rap - definitely danceable!  As usual, I spread out on the lawn, but with some groups, you've just got to get the visual, too!  Outdoor theater seating is free, so make sure you at least get close enough to watch at least a portion of each performance. 
During Music Without Borders, the lawn fills up, but is not overly crowded.  Enjoy the music on the great lawn (the great gathering place) - there will be no view of the stage (without a lawn chair), but a great view of the sky! Or take advantage of the open, theater-style seating. Food and beverages are available for purchase - or bring your own.  (Alcoholic beverages are permitted.)  Even if you go to this family-friendly
To-Do
at the last minute, there are plenty of places in the area to allow you to put together an impromptu picnic! 
Music Without Borders has another
wonderful line-up
 this season, so be sure to take advantage of it!  The series continues on Thursdays from 6:30-9pm through July 22nd. 
View more photos
.
in

Chicago