Tuesday, August 17, 2010 at 3:09AM
Doin' It In the Park – Oh, Yeah! 
I hope that by now you're aware of some of the great outdoor live music venues and series that I've shared with you either through
Sun Spots
and/or
Soleil's To-Dos
.  But, in addition to the larger summer series, there are still a few live music concerts taking place at parks throughout the City of Chicago, courtesy of the Chicago Park District
Concerts In the Parks
series!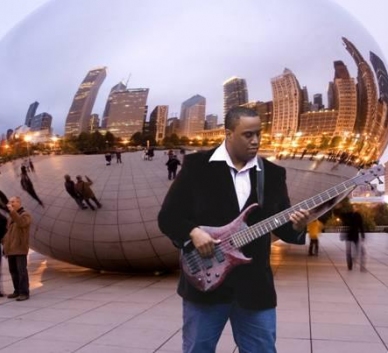 Concerts In the Parks features primarily local, but also national acts.  I recently enjoyed national recording artist Michael Manson at Midway Plaisance Park.  Plenty of people made it out for this performance and clearly had a good time!  Impromptu dance floors erupted in several areas as folks couldn't resist the opportunity to get their stepping on – and it was a lovely sight to see.  
In the winter, Midway Plaisance is home to an outdoor skating rink.  But, come summer festival season, this park in the University of Chicago/Hyde Park neighborhood is abuzz with soccer, Frisbees, concerts and movies!  On this particular summer evening, the skating rink was converted into a seating rink for the enthusiastic concert-goers.  While lots of seating (folding chairs) was provided, a lot of folks came equipped with their "chair in a sack."  Young, old, black, white and everyone in between had a great time together at this neighborhood concert, sponsored by the Black McDonald's Operators Association.  
Concerts In the Parks provides a free opportunity to gather with friends and family in a no-fuss setting with ample parking.  Generally speaking, Concerts In the Parks are laid back enough to provide time for you to get home from work, change into something relaxing, gather up some food and drink, head back out and still have plenty of room to have a seat.  Whether in the official seating area or flanking the stage on the lawn well within earshot of the music – enjoy the concert your way!  
This is about the time of the year that we begin to face how quickly summer passes, but it's not too late to partake in the
Concerts In the Parks
series!  At
Soleil's To-Dos
, you'll find that we've included listings for the more
culturally diverse performances
.  The series comes to an end on August 31st, so, now is a good time to stop thinking about it – it's time
To-Do
it! 
Stephanie!
Soleil's To-Dos
www.so-LAZE.com