Wednesday, March 16, 2011 at 8:27PM
Art in Chicago, BeyB:  Then & Now, Here & There
We've got some really cool art exhibits hanging around town and most of them are free!  From the South Side, to the Gold Coast, to River West, from Lee Bey to Dawoud Bey, here's a quick rundown of some of the exhibits you ought to take a look at!
THEN:
Dawoud Bey: Early Portraits - These compelling portraits will definitely cause you to linger over each one as you imagine what stories the subjects might have told and what thoughts lie behind the compelling eyes.
""Dawoud Bey: Early Portraits" brings together for the first time selections from two seminal groups of photographs by this major American artist. "Harlem, USA," the photographer's first project, completed in the mid-late 1970s, and "Street Portraits" were made in the late 1980s through early 1990s. As a youngster growing up in Queens, NY, Bey was intrigued by his family's history in Harlem. His parents met at church there and it was home to many family members and friends he visited as a child. Bey began making photographs at sixteen, after viewing the work of James VanDerZee and other photographers in the "Harlem On My Mind" exhibition at the Metropolitan Museum of Art in 1969. Further experiences viewing the works of Roy DeCarava, Mike Disfarmer, Irving Penn, and Richard Avedon clarified his interest in photographing the human subject."
Continues through April 30, 2011
Images of the Past, featuring Calvin B. Jones - From about 30-50, Calvin Jones was legally blind - and still creating art.  Read a fascinating account of his life in this Chicago Reader article "An Artist's Homecoming."
"Join the South Side Community Art Center (SSCAC) for an exhibition of its historic collection. The SSCAC, Muntu Dance Theatre of Chicago, Chicago Public Arts Group, Association for the Advancement of Creative Musicians and the School of the Art Institute will present programming to celebrate, honor and highlight arts Calvin B. Jones' contributions to the arts community."
Continues through March 27, 2011
NOW:
Black Creativity: Energy - Now in its 40th year, Black Creativity engages its audience in a timely theme that examines the energy exemplified by a number of recent disasters.  This is the closing week, so don't miss it!
"The theme for Black Creativity this year is Energy, inspired by our newest permanent exhibition, Science Storms. In Science Storms, guests explore the chemistry and physics at work in nature's most powerful phenomena, including lightning, tsunamis, avalanches and tornadoes. Black Creativity 2011 will invite the community to observe, wonder, investigate, and discover how to empower themselves and their community through science.
Continues through March 20, 2011.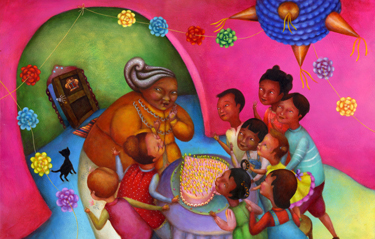 Real and Imaginary: Three Latin American Artists  - Grab some of the kids in your life (especially on a Thursday evening when admission is free!) and watch their imaginations soar at this contemporary exhibition of art from children's books!
"Three Latin American artists share the beauty and richness of their cultural heritage in this exhibition of art from picture books. In a book of Latin American folktales, Raúl Colón layers washes of paint and etched lines, finishing with colored pencils. David Diaz's brightly colored illustrations portray true stories of Mexican heroes and artists. And with a flair for humor, Yuyi Morales paints hauntingly beautiful, mystical pictures that resonate with the importance of family."
Continues through May 29, 2011
THEN AND NOW:
Chicago Then and Now: A Story by Lee Bey - Here's a fantastic look at the changes seen in various Chicago areas.  For a sneak peek of and a little background on the exhibit, visit Photography show provides look into Chicago's past and present.  This exhibit continues through January 9, 2012, but take a look now and go back every now and then - every three months, a number of photos in the exhibit will be rotated out to make room for new (and old) photos with varying themes.  Also be sure to set aside time every third Tuesday at 12:15pm for Gallery Talk with Lee Bey.
"Architecture critic, photographer, and blogger Lee Bey has been considering Chicago and its built environment for years. In this exhibit, Bey pairs historic and contemporary images of life in the city's neighborhoods to illustrate threads of living history and social change across the city. Every three months sections of the exhibit will change, introducing a new neighborhood or theme."
Continues through January 9, 2012
Geraldine McCullough: "Fragments" - Then and now?  Well, yeah - afterall, McCullough was born in 1917 ("then") and "now" you get to see some of her work that has never previously been exhibited!
"Geraldine McCullough: "Fragments" brings together for the first time selections of paintings, Collagraph prints and sculptures by this major American artist. These early works of McCullough's from the 1940s through the 1970s are works of art not seen before by the public. This exhibition honors the life and work of Geraldine McCullough. She graduated with a Master of Art Education from the Art Institute of Chicago. McCullough was encouraged to turn to welded sculpture by master sculptors Richard Hunt and Rudolpho Seno."
Continues through April 15, 2011
This is just a partial listing of many art exhibits that are highlighted on Soleil's To-Dos, so be sure to visit www.so-LAZE.com to browse all listings!
Stephanie!
Soleil@so-LAZE.com
in

Chicago